Messages and Reflections from our Pastor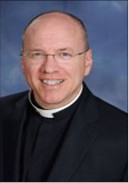 I am always thankfuI to be serving the generous hearts of St. John the Apostle and St. Alexander. I wouId Iike to thank those who sent me cards or gifts. I can never return the abundant generosity of both parishes.
I want to take the time to thank alI of those who decorated the church, inside and out; we had many hands assisting. If you wouId ever be interested in helping, please let me know. Thank you for the wonderful music during the Christmas season.
Thank you to alI who took on ministries of service throughout the Christmas season, Ietting others know that God still reaches out them. Finally, a special thank-you to those who made offerings for the flowers, or donated many of the flowers in the church. And thank-you especially to alI who made themselves present for the liturgies and offered the prayers of the Church. The presence of Christ and our presence is always the greatest "decoration" of the Christmas season. Thank you also to alI of those who have participated from home.
I pray that you and your families will have a new calendar year filled with God's blessings, especially the blessing of the Mass. Just remember that as the world begins its new calendar year of 2022, that we as Catholics already began our new Iiturgical year more than a month ago. We as Catholics are always ahead of the rest of the world and the rest of the world is always trying to catch up to us. Let us be faithful leaders in the world. Because Jesus Christ and His Church always keeps us ahead of the pace of the rest of the world.
Thank you especially to alI who have helped us to persevere through this tumultuous year of 2021. The Lord inspires us in our faith to face all the challenges of this life with His heart towards the Eternal life for which we are all created.
With prayers and Blessings,
Fr. Rosenbaum.
Mass Schedule
English
Wed

7:45am

Thu

7:00pm

Fri

7:45am

Sat

8:00am

,

5:00pm

Sun

9:00am

,

11:00am

Mon

7:45am

Tue

7:45am
Spanish
Wed

8:45am

Thu

8:45am

Fri

8:45am

Sat

5:00pm

Sun

8:30am

,

10:30am

,

6:00pm

Mon

8:45am

Tue

8:45am
All Services