CASSEROLE MINISTRY
---
Volunteers make and freeze casseroles to be delivered to the soup kitchen run by the Missionaries of Charity on Chicago's West Side. Casserole pans and recipes are provided each month.
Volunteers are needed at Masses on casserole drop off weekends or you can join the driving team that delivers the casseroles on one Saturday morning each month.
On the mornings of Thanksgiving, Christmas and Easter, volunteers are needed to serve meals at the soup kitchen and prepare meals to be delivered to the senior citizen buildings in the area. Volunteers can participate throughout the year.
For more information, contact Mary Madsen at mmadsen72@gmail.com.
This ministry is on hold during the pandemic - updates will be made.
---
Click here for Casserole Ministry Recipe Packet and Schedule
---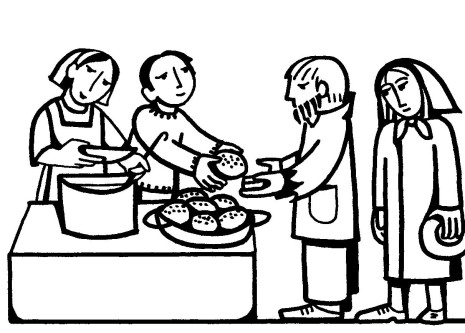 Missionaries of Charity Soup Kitchen
In 1983, Mother Teresa established the Missionaries of Charity soup kitchen at 115 N. Oakley Ave., next to St. Malachy Parish on Chicago's West Side. The soup kitchen feeds about 200 people a day at a mid-morning meal, and 1,000 people a month from its food pantry.
It was here that her Missionary of Charity sisters had their first Chicago convent and where the now-Blessed Teresa of Calcutta visited three times. The sisters now live in Pilsen but continue to operate the soup kitchen, which is open at 10 a.m. daily (except Thursdays).
Mass Schedule
English
Wed

7:45am

Thu

7:00pm

Fri

7:45am

Sat

8:00am

,

5:00pm

Sun

9:00am

,

11:00am

Mon

7:45am

Tue

7:45am
Spanish
Wed

8:45am

Thu

8:45am

Fri

8:45am

Sat

5:00pm

Sun

8:30am

,

10:30am

,

6:00pm

Mon

8:45am

Tue

8:45am
All Services